Our story begins long before we moved into our commercial kitchen
Hey y'all, I'm Jacqueline!
I'm a Flavor-Obsessed Baker, Educator, Entrepreneur, Wife, and Mother to Four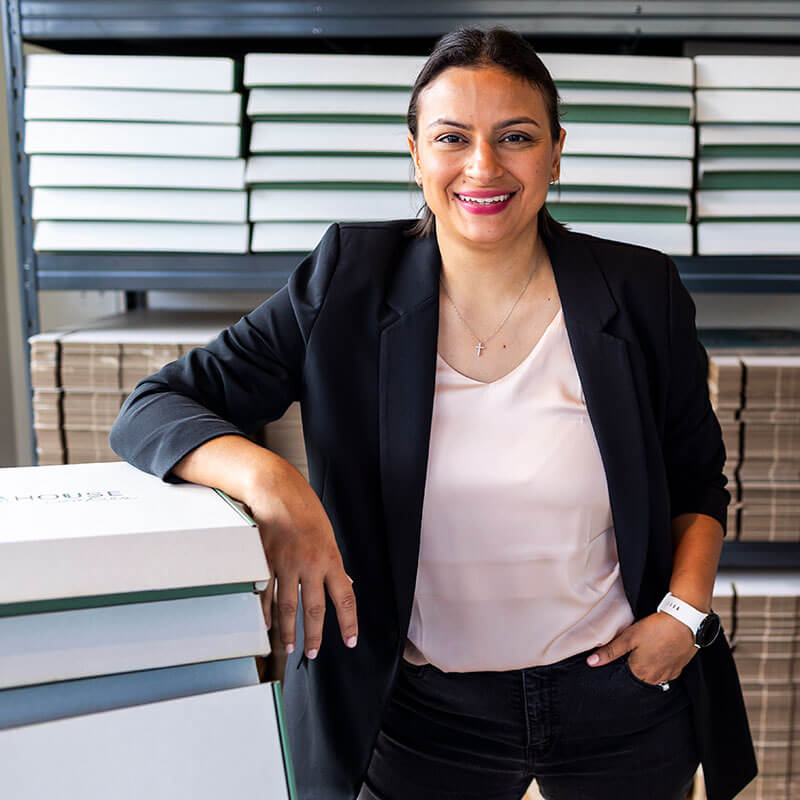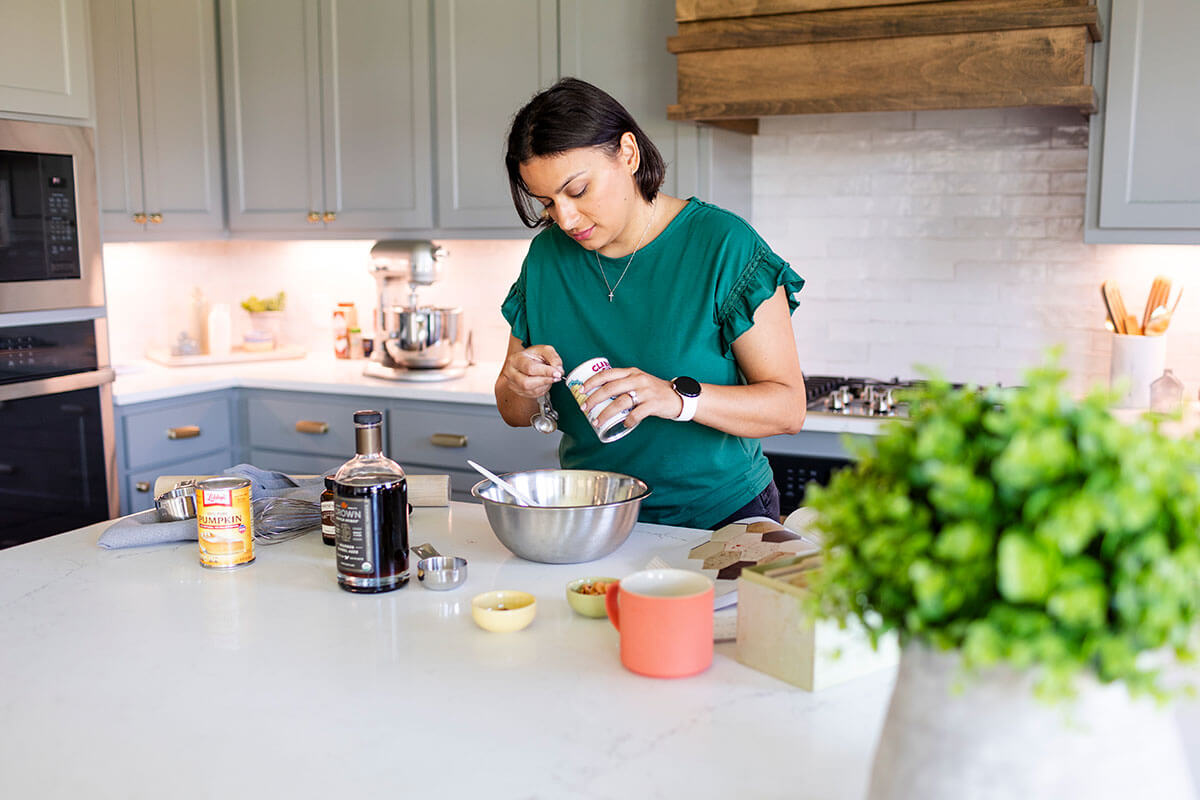 A few things that make my life extra sweet –
trying new flavor combos
a crisp dr. pepper
sharing treats with friends
belly laughing til I cry
roadtrips with my fam
bouldering at my local gym
The Tudor House Cookies Difference
Flavor-packed

cookies that make a lasting impact
Sugar cookies: More than a canvas
I have always felt strongly that my sugar cookies should taste delicious and not just be cute. From my very first recipe, I thought about taste first because cookies are meant to be eaten!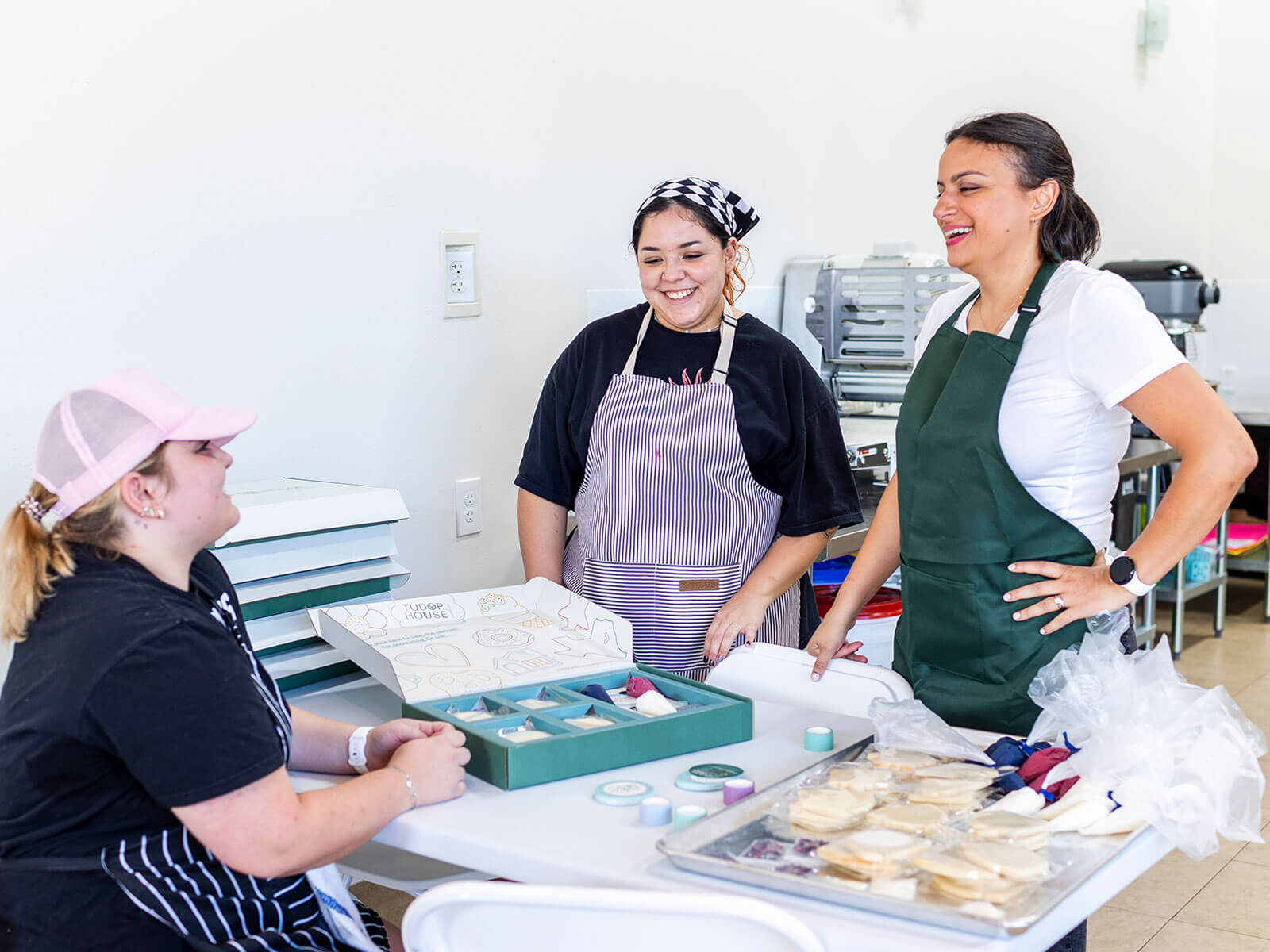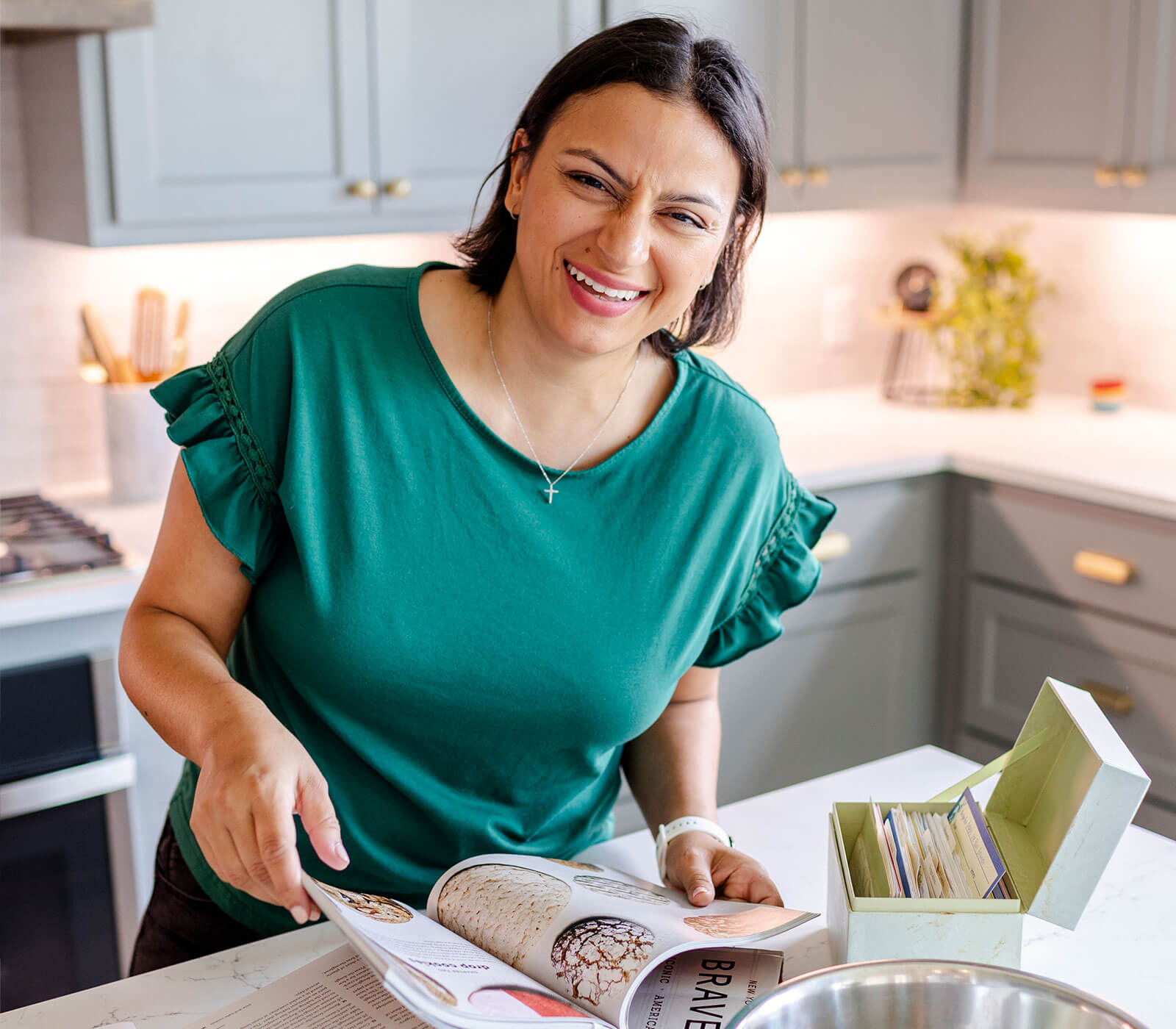 In the business of giving back
I have a passion for hiring people in all stages of life - college kids, moms of five, culinary graduates, and people who want to learn more about owning their own business. This business is what helps my family support ourselves and pursue our wildest dreams.
From our small home kitchen to our commercial space
A
look back

at the many eras of Tudor House Cookies

As a former middle school teacher, helping others to learn has always been my passion. After becoming a mother and staying home with children, I was looking for a way to contribute to the family income while still having flexibility. My Tudor-style home became the inspiration for naming my cookie company. I have long harbored a love for cooking and baking and fondly remember those first sparks of baking with my mother as a child. It was only a matter of time until I returned to that love.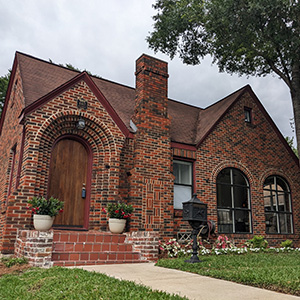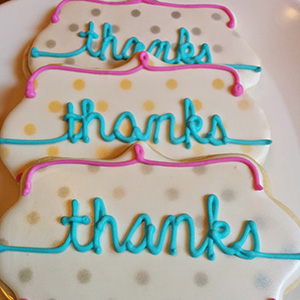 While planning my first child, Morgan's, first birthday party, I decided to test the waters of cookie decorating. I quickly found I had a knack for flooding, piping, and creating delicious, soft sugar cookies. From the beginning, my focus was cookies that were not just cute, but enjoyable to eat. With flavor combinations like brown-butter snickerdoodle, I quickly became a sought-after custom cookier. My passion drove me to stay up late into the night creating and experimenting.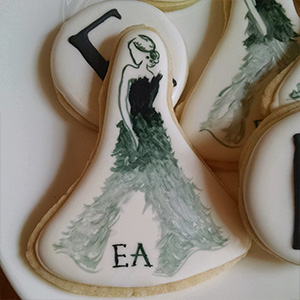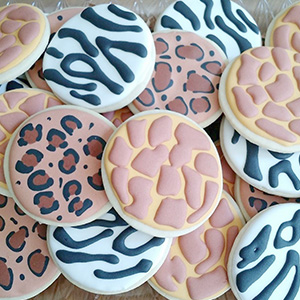 Cookie creation can be extremely time-consuming for a mid-sized company. After spending countless hours focusing on orders instead of sleeping, I decided to focus my time and attention on my growing family and son with special needs late in 2019 and into 2020.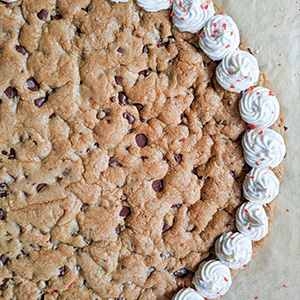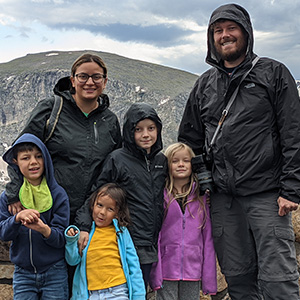 With years of experience under my belt and lots of encouragement from my cookie friends, I auditioned for Christmas Cookie Challenge on Food Network in 2020. Judges Ree Drummond (The Pioneer Woman) and Eddie Jackson (former NFL player and winner of multiple Food Network shows) raved about my brown butter snickerdoodle, double dark chocolate, and butterscotch pecan rollout cookies. Because many cookiers focus only on their decorating skills of regular sugar cookies, my focus on creative flavor combinations set me apart. I love to laugh, and that really showed on camera.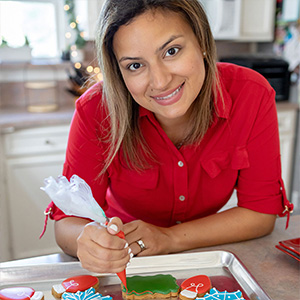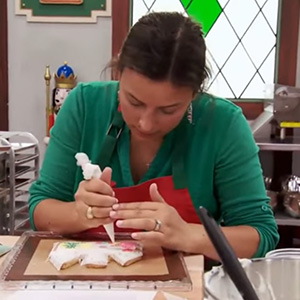 Fueled by my passions for teaching, cookies, and entertainment – oh, and did I mention a global pandemic? – I saw a once-in-a-lifetime chance to combine all of my talents. With the uptick in virtual communications and remote working, virtual team-building opportunities have become more important than ever to companies large and small alike. I saw an opportunity to make fun, informative content available to companies who were in need of joy with a touch of sweetness.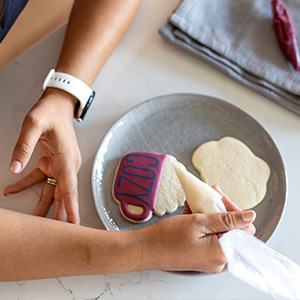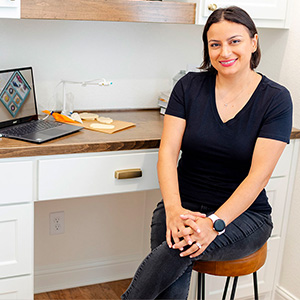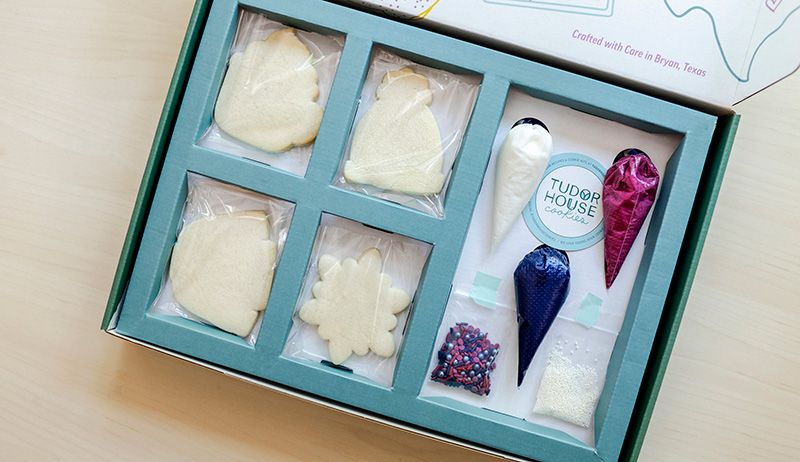 Wanting to find a community of like minds, I entered the world of my peers: Cookie Con. Soon after attending my first Cookie Con in 2015, I realized I was not only talented, but could combine my new talent with my love of teaching. I began to teach classes from my home, and was accepted to be a core instructor at Cookie Con in 2022 in Reno, NV where I taught over 900 attendees on recipe development and flavor creation.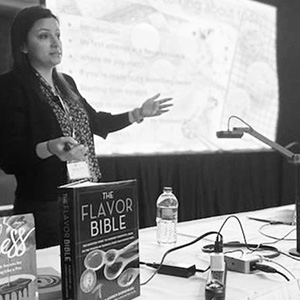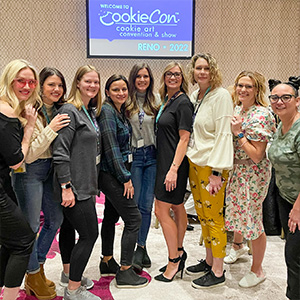 A few years into this crazy idea, we have a team of experts, commercial kitchen, and eyes on the future for Tudor House Cookies. Having recently relocated to College Station, TX to build my dream home and cheer on the Aggies, my husband, Gabriel, and I are excited to make plans for our future. With dreams of one day writing my own recipe book, I continue to bring fun and delicious cookies to people around the world.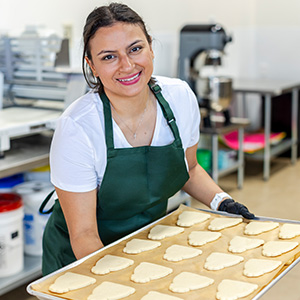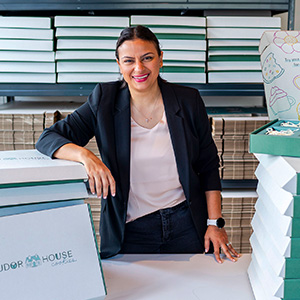 Want to connect with Jacqueline about booking your own cookie class? Drop her a line!
Follow us @tudorhousecookies for some delicious cookie content!